FIDEL PONCE CCANA
Fidel Ponce Ccana est né en 1973 à Lima, au Pérou, où il a étudié à l'École nationale des beaux-arts de 1992 à 1998. Ses antécédents académiques ont été influencés par des artistes bien connus tels que Rembrandt, Caravaggio et Da Vinci.
Les peintres péruviens primordiaux Carlos Palma, Daniel Manta et Pedro Caballero étaient ses mentors et ont influencé son travail pictural et sa vision du monde. Invité à exposer ses œuvres, il a immigré au Canada en 2003, dans la ville de Montréal.
Il a eu plus de quatre expositions individuelles à Montréal et a participé à divers symposiums, festivals et expositions internationales. Les tableaux de Fidel se trouvent dans de nombreuses collections privées importantes au Canada et au Pérou
LE BALCON D'ART SOUHAITE LA BIENVENUE À CET ARTISTE EXCEPTIONNEL!
Fidel Ponce Ccana was born in 1973 in Lima, Peru where he studied at the National School of Fine Arts from 1992 to 1998. His academic background was influenced by well-known artists such as Rembrandt, Caravaggio and Da Vinci.
Prominent Peruvian painters Carlos Palma, Daniel Manta and Pedro Caballero were his mentors and influenced his pictorial work and his vision of the world. Invited to exhibit his works, he immigrated to Canada in 2003 taking root in the city of Montreal.
He has had more than four individual exhibitions in Montreal and has taken part in various symposiums, festivals and international exhibits. Fidel's paintings can be found in many important private collections in Canada and Peru.
LE BALCON D'ART WELCOMES THIS EXCEPTIONAL ARTIST!
1.Les coupables, 34.25 X 28.3
2.Labyrinthes humains II , 28.4 X 34.3
3.Temps de réflexion, 39.4 X 31.8
AUTRES OEUVRES DISPONIBLES SUR NOTRE SITE WEB ET EN GALERIE
MORE WORKS AVAILABLE ON OUR WEB SITE AND AT THE GALLERY
---
SARAH FECTEAU
---
1.Red Rose, 36×36
2.Voir différemment les choses. , 30×24
3.Rapunzel, 40×30
AUTRES OEUVRES DISPONIBLES SUR NOTRE SITE WEB ET EN GALERIE
MORE WORKS AVAILABLE ON OUR WEB SITE AND AT THE GALLERY
---
MARIE-ANDRÉE LEBLOND
---
1.Black Jack, 40×40
2.Good Daddy , 30×30
3.Modern Family, 30×60
AUTRES OEUVRES DISPONIBLES SUR NOTRE SITE WEB ET EN GALERIE
MORE WORKS AVAILABLE ON OUR WEB SITE AND AT THE GALLERY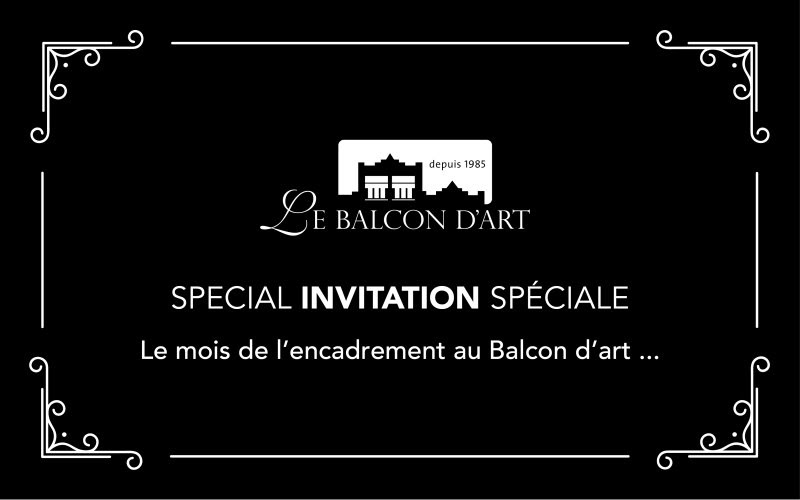 Tout au long du mois de mai, chaque visiteur à la galerie recevra un certificat cadeau de

 

50.00$ applicable à un projet d'encadrement.

Valide du 1er au 31 mai 2017 (exclusivement sur les encadrements)

NOTRE GARNDE COMPÉTITION D'ENCADREMENTS!

Tous les montages sur mesure créés au cours du moi seront photographiés pour le concours d'encadrements à paraître sur notre site internet ainsi que sur Facebook. (Concours du 16 au 25 juin, gagnant annoncé le 26 juin)

Le gagnant (qui aura récolté le plus de « j'aimes ») recevra un certificat cadeau de la valeur d'achat de l'encadrement émis lors du concours.

Offre non cumulable, non échangeable, aucune valeur monétaire

All through the month of May, every person visiting the gallery will receive a

 

$50.00 gift certificate applicable towards a framing project

Valid from May 1st to 31st 2017 (exclusively on framing)

OUR GREAT FRAMING COMPETITION!

All custom-made frames created within the competition will be photographed for the contest and will appear on our website as well as on Facebook. (Contest June 16th to 25th, winner will be announced June 26th )

The winner (who will have collected the most "Likes") will receive a gift certificate for the value of the framing as issued during the contest.

Offer non-cumulative, non-exchangeable, no monetary value